The world's most permanent portable blind.
The world's most portable permanent blind.
The world's most permanent portable blind.
The world's most portable permanent blind.
Patented BlindFold Technology:
Our Folding Panel Design
NO HUBS. NO RODS. NO HASSLES.​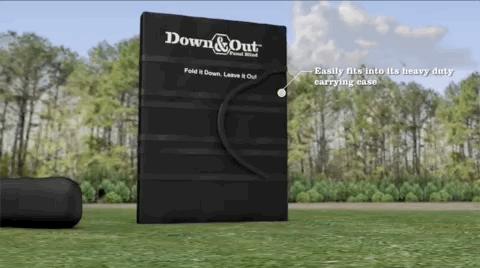 The problem with hub-style pop-up blinds is, well, the hubs.  The hubs get tangled, the rods break (or push through the fabric), and the sides of the blind can blow inward. Plus, pop-up blinds are really not made to leave out.
That's why we made the Down&Out™ Panel Blind.  It's easy to put up and take down, will never get tangled, has no rods to break and is designed to leave out.
The six panels on a Down&Out™ Panel Blind fold accordion-style stacking into each other.  To deploy, you simply unfold, position them into a hexagonal shape and attach the two ends with the integrated straps.  Add the roof and you're done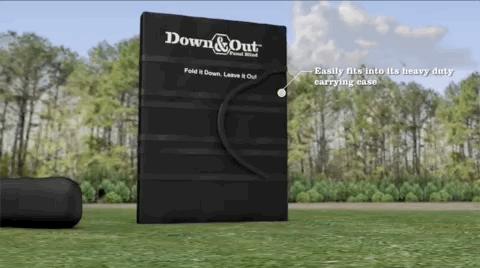 All Season Long. All season strong.
Made to leave out all season long. Leaving your blind out lets game become acclimated.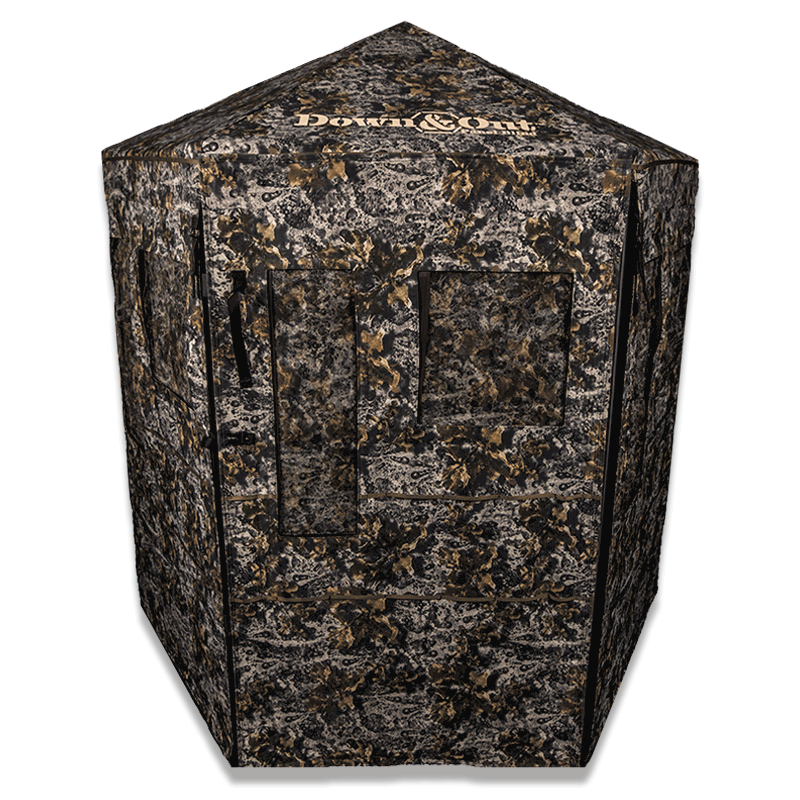 Down&Out™ Panel Blind's All-Season heavy-duty aluminum frame is designed to take a snow load without collapse and serious wind gusts without wall shake. And, the heavy duty 600 denier fabric was developed to leave out all season long, season after season.
Why Down&Out™ Panel Blind?
features that set us apart.
Lifetime Warranty
Down&Out™ Panel Blind is covered by a lifetime warranty.
Quick setup and take down
A Down&Out™ Panel Blind sets up simply and easily with absolutely NO tools & NO hardware.
1. Simply unfold the accordion style panel folding frame.

2. Insert the powder coated steel struts through the holes in the frame.
3. Attach the roof over the struts.
Performance Guarantee
The Down&Out™ Panel Blind is equipped with premium, over-engineered full-length HardCore™ panel hinges for long-lasting durability.
Frame Strength
Hub-Free design.  NO hubs. NO fiberglass rods. NO hassles. Down&Out Panel Blinds are topped by powder coated steel struts that will support an evenly distributed load of over 150 pounds.  In heavy winds, rain, or snowfall the strength of the Down&Out™ roof strut system outperforms every portable blind on the market and rivals the strength and stability of permanent blinds.
360º View
The Down&Out™ Panel Blind provides a 360° view with bow and rifle shooting windows on all six sides so it's easy to watch and set up to shoot in any direction.
Easy in and Out
The Down&Out™ Panel Blind comes equipped with a high-quality carrying bag for convenient storage and transport, and thanks to its patented BlindFold technology, the accordion-style folding panel design allows for the Down&Out™ to be set-up and taken down by one person. 
Full Size Door
Unlike pop-up blinds that are awkward and noisy to enter and exit, the Down&Out™ Panel Blind offers a full-size (wheelchair accessible) 35" wide magnetic door for silent and convenient access.
Stable Shooting Rest
Each gun window has an integrated stable shooting rest that is a part of the powder-coated aluminum frame. Each bow window provides an option to shoot-through mesh or peel open the magnetic closures with complete silence.
SILENT DUAL WINDOW SYSTEM
The magnetic dual window system allows hunters to reconfigure DarkOut™ panels and shoot-through mesh panels in complete silence even when game is within range of your bow.
Visibility 
The Down&Out™ Panel Blind offers a bow AND gun window in each panel, which provides an unrivaled combination of visibility and shoot-ability.  Twelve windows ensure that no matter the angle of approach, game will always be in your sights.
Fabric Strength
Down&Out™ Panels are made from 600 Denier Cordura Nylon. This ultra-durable material is treated for UV resistance and has a polyurethane coating for added durability and water resistance as well as enhanced DarkOut performance to eliminate your silhouette. For additional concealment, the Down&Out™ comes equipped with Nylon webbing brush straps that are double stitched directly onto the fabric allowing for quick and easy brush coverage to blend into any environment.
to meet the demand of every hunt